Manson Superspike for bass
All bass players are familiar with the problem of their endpin slipping. The high-tech solution to that problem is the Manson Superspike.
T

he tungsten alloy point, mounted in an elegant stainless steel rod, is hard enough to stick in any surface and tough enough to stay sharp. Players can enjoy the confidence which comes from knowing that their instrument will not slip.
Our endpins are supplied with a spare point which is held in the reverse end of the rod.
E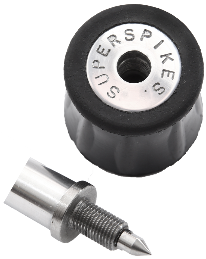 ach Superspike is individually made to the player's specifications, which can include the addition of grooves in the rod at specified intervals. Grooves are not recommended on small diameters, 5/16" and 8mm, unless the endpin is very short. If grooves are required, please add a note on the order form.
The cover is removable to expose the point. The owner's initials (maximum 7 letters) are marked on the exposed face of the cover. The marking is helpful if the cover is mislaid, or in situations where several or all the players in a section have Superspikes.
In addition to the traditional rubber ferrule which we have always supplied, we now have plastic/rubber composite ferrules. They are very hard-wearing, but being somewhat less grippy than the rubber ferrule, they are best suited to people who play standing up.
You may also be interested in our bridge adjusters and C-string tuner.
Please order using the bass order form or contact us to discuss your requirements.